Recipe
Strawberry Tiramisu with Galbani Mascarpone in a Glass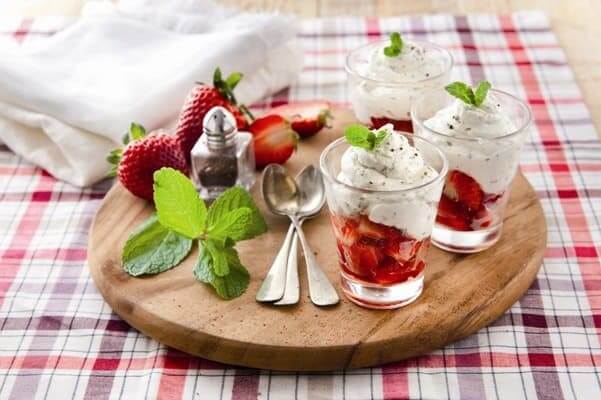 Preparation
A delicious tiramisu layered with creamy Galbani Mascarpone and sweetened strawberries. Simple and easy to make, this recipe is an indulgent variant to the Italian classic.
Wash the strawberries and peppermint. Pick the best mint leaves and set them aside.
Remove the stem, leaves and core from the strawberries. Cut into quarters, then place in a large bowl. Add lemon juice and sugar. Mix well. Leave in the fridge for half an hour for the strawberries to absorb the sugar and release their juice.
Meanwhile, add the Galbani Mascarpone and the coarsely chopped peppermint leaves in a large bowl. Mix well.
Crack the eggs and separate the egg yolk from the egg white. Keep the egg whites aside. Whisk the egg yolks with the rest of sugar. When they turn white and frothy add the eggs to the mascarpone mixture.
Collect the egg whites and add a pinch of salt. Whisk until they begin to stiffen, then add to the mascarpone mixture.
Remove the strawberries from the fridge and place them in the bottom of four transparent glasses. Fill the glasses till they are half full.
Fill the nozzle of a piping bag with the mascarpone mixture and decorate the glasses.
Then add some biscuits of your choice (speculoos for example) that you have crumbled beforehand and finish with another layer of mascarpone.
Before serving, sprinkle each glass with the mint leaves put aside.
Serve with fresh strawberries and mascarpone cream.
Find inspiration among our Italian recipes