Recipe
Valentine's Day Tiramisu with Galbani Mascarpone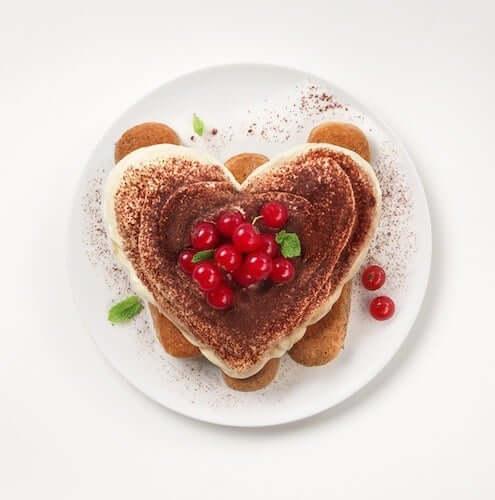 Preparation
Prepare the coffee in your coffee maker and set aside to cool down.
First, separate the egg yolks and whites. Then, beat the egg whites in a bowl using an electric mixer, cover with cling film and place in the fridge.
In another bowl, beat the egg yolks with the sugar. Add the Galbani Mascarpone and continue to whisk until soft and creamy.
Fold or very gently whisk the egg whites mixture into the creamy mascarpone mixture.
Soak the sponge fingers in the coffee and arrange over the bottom of a serving dish. Pour over the mascarpone cream to form a heart shape. Repeat this step until you run out of ingredients.
Cover with cling film and place in the fridge until ready to serve (4 hours minimum).
Before serving, sprinkle with cocoa powder and add fresh redcurrants to the top of each heart.
Find inspiration among our Italian recipes