Recipe
Smoked Salmon Tiramisu with Galbani Mascarpone and Lime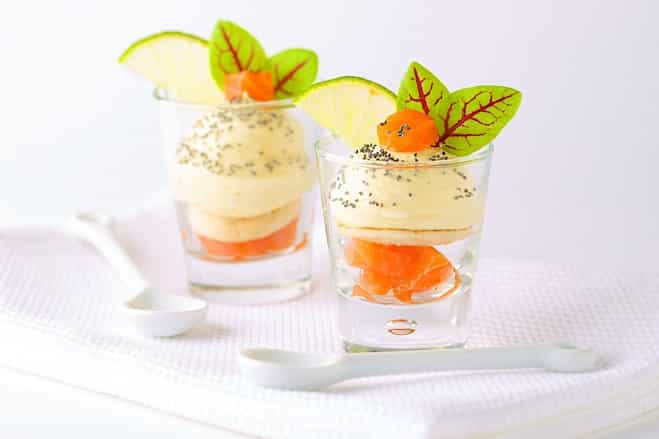 Preparation
A delicious smoked salmon and lime savoury variant of the traditional Italian dessert. Simple and easy to make, this recipe is perfect as a light starter.
Separate the egg whites from the egg yolks. In a bowl, whisk the egg yolks to break them up until mixture forms a ribbon. Add the Galbani Mascarpone and the lime juice. Season well with salt and pepper.
Tip
If you find lime juice too acidic, do not hesitate to use lemon juice instead.
Beat the egg whites until thick and creamy. Add the egg whites to the mascarpone mixture.
Cut the smoked salmon into small slices, then place the slices at the bottom of each glass. Set aside a few slices in the fridge to use for decoration.
Place a blini on top of the salmon cubes. Spoon a generous amount of the mascarpone mixture on top. Cover in cling film and leave to cool in the fridge for 1 hour.
When ready to serve, decorate the glasses with beetroot leaves and the remaining salmon slices. Sprinkle with poppy seeds.
Find inspiration among our Italian recipes