Recipe
Galbani Ricotta, Butternut Squash and Sage Risotto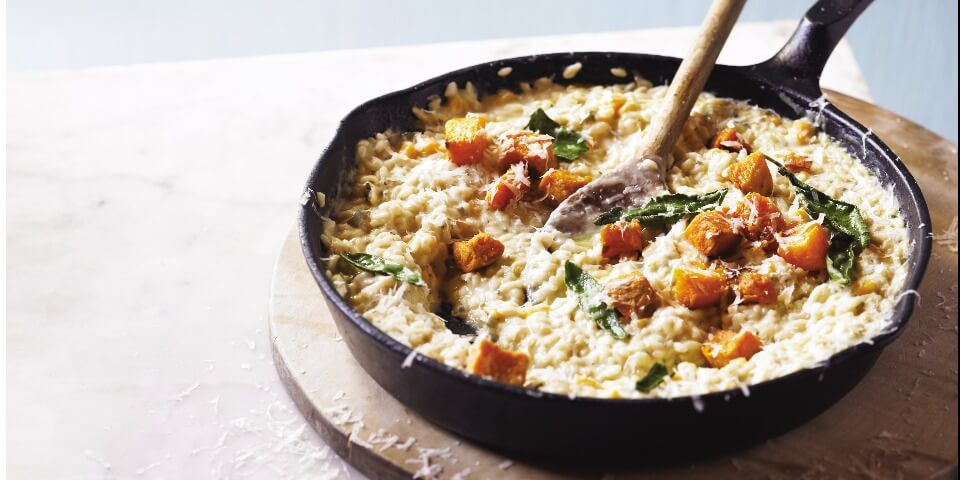 Preparation
Preheat your oven to 200°C/fan180°C/ gas 6.
Cut two-thirds of the butternut squash into cubes, then finely dice the rest. Place the cubes in an oven proof dish with a small amount of olive oil. Place in the oven and cook for 20-30 minutes, until tender.
Once cooked, set aside a third of butternut squash. Place the other pieces of cooked butternut squash in a bowl with the Galbani Ricotta, salt and pepper. Mix well.
Melt the butter in a large saucepan. Add the risotto rice and cook for a minute. Then add a ladleful of vegetable stock. Stir well. Repeat this step, adding a ladleful of stock at a time until the rice is tender.
Add the finely diced raw butternut squash to the risotto rice mix. Stir in the butternut squash, Galbani Ricotta mix and grated Galbani Parmigiano Reggiano D.O.P. Season with salt and pepper, and leave to stand for 5 minutes.
Meanwhile, melt the remaining butter in another pan, add the sage leaves and cook until crisp.
Serve on a serving plate and sprinkle with grated Galbani Parmigiano Reggiano D.O.P.
Tip
By adding sage to Galbani Ricotta, you can make a simple but tasty pasta sauce.
Find inspiration among our Italian recipes