Recipe
Galbani Mozzarella and Pistachio Mortadella Pizza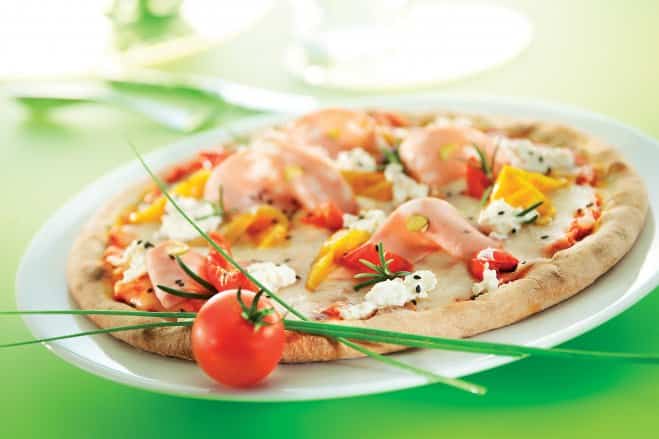 Preparation
Preheat your oven to 220°C.
Roll out the pizza dough onto a lightly greased cooking tray.
Cover the dough with the pepper tapenade and sprinkle with grated Galbani Mozzarella Cucina.
Place the dough in the oven and cook for approximately 15 minutes till the dough is golden brown. Once cooked, carefully remove the pizza from the oven and leave to stand for a few minutes.
Add the peppers and the mortadella.
Just before serving, add a few tablespoons of Galbani Ricotta and sprinkle black sesame seeds on top.
Quick and easy to prepare and can serve with a lamb's lettuce salad. For dessert serve with a chocolate tart or lemon cheesecake.
Tip
Optional: marinate your peppers!
This recipe is very easy and should be started 3 hours prior to cooking. After peeling 3 peppers and removing the seeds, cut them into strips. Peel 2 to 3 cloves of garlic and cut a few sprigs of thyme and rosemary into small strands. Place a layer of strips of peppers at the bottom of a jar. Add salt, pepper, slices of garlic, thyme and rosemary and a tablespoon of olive oil. Repeat the process with the other layers of pepper, then add a drizzle olive oil on top. Keep this lovely dish in the fridge for a minimum of 2 hours before using.
Find inspiration among our Italian recipes