Recipe
Galbani Mozzarella and Crayfish Salad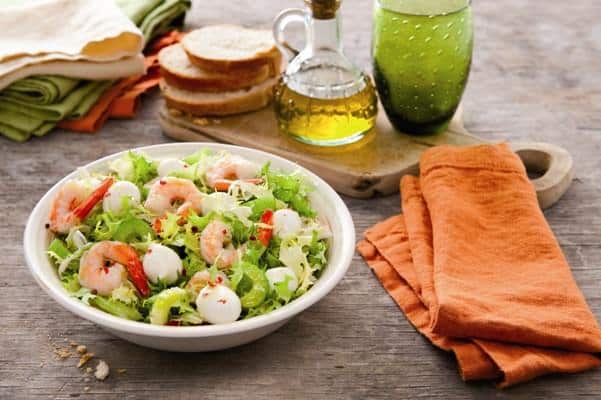 Preparation
You will need a steam-cooker to prepare this dish.
Salads make an extremely tasty starter for Summer. They go really well with seafood and are simple and easy to make. Ideal for accompanying a light lunch or barbecue.
Wash the salad under cold water and dry well.
Drain the minis balls of Galbani Mozzarella.
Gently place the crayfish in a steam-cooker, and cook until they turn red.
Then, rinse the celery under fresh water, dry and carefully slice into matchsticks or small pieces.
Place the salad leaves on a large serving plate.
Cut the mini balls of Galbani Mozzarella in half. Then add the mozzarella, celery and warm crayfish.
For the dressing, combine lemon juice, extra virgin olive oil, balsamic vinegar, salt and pepper in a small bowl. Mix well.
Pour the dressing over the salad and season generously with salt and pepper. Serve.
If you have fresh crayfish, you can simply cook them in a frying pan or on the barbecue rather than using a steam-cooker. You can also cook them for a couple of minutes in salted boiling water.
This recipe goes well with hazelnut oil as well as raspberry vinegar. Season the dressing with finely chopped fresh basil leaves.
Tip
In the absence of crayfish, you can use king prawns or langoustines, just as tasty and fragrant, or even, prepared cocktail shrimp.
Find inspiration among our Italian recipes